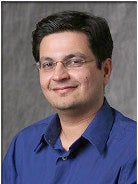 John A. Clark and Edward T. Crossan Chair Professor, Mechanical Aerospace and Nuclear Engineering
Education / Experience
PhD 2000, University of Maryland (Alfred Gessow Rotorcraft Center)
Research Expertise & Interests
Nikhil Koratkar's research has focused on the synthesis, characterization, and application of nanoscale material systems. This includes graphene, carbon nanotubes, transition metal dichalcogenides, phosphorene as well as metal and silicon nanostructures produced by a variety of techniques such as mechanical exfoliation, chemical vapor deposition, and oblique angle sputter and e-beam deposition. He is studying the fundamental mechanical, electrical, thermal, magnetic and optical properties of these one-dimensional (1D) and two-dimensional (2D) materials and developing a variety of composites, coating and device applications of these low dimensional materials.
Rotary-Wing/VTOL Application
Advanced nanocomposite materials including polymer, metal-matrix and ceramic matrix composites with enhanced mechanical properties including strength, modulous, toughness, creep resistance, fracture toughness, and fatigue life.